It must be the first day of school because those "radical Marxists" are out at the entrance of the University again, pushing their commie rag on polisci undergrads. Usually I just pass by them with a frosty stare, but I noticed they had a wide array of hilarious signage this year. To wit: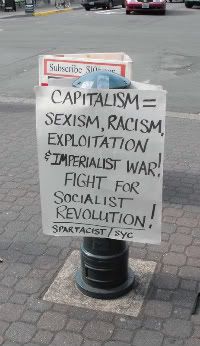 I was quite intrigued by this, so I decided to ask one of the people at the table about it. At first he was reluctant to talk to me, saying that they do not usually do interviews. I only managed to quote him by promising anonymity. Apparently the revolution will neither be televised nor on the record. There's a transcript of our enlightening conversation after the jump.
OC: I noticed your sign, and I was wondering if you could explain to me how capitalism equates to "sexism, racism, exploitation and imperialist war."
Commie: You don't know how capitalism relates to imperialist war? Man, what was WWI, the first large imperialist war, about? Why did it start?
OC: Well, I don't know. It was, uh, kind of complicated.
Commie: [Launches into diatribe about "spheres of influence" and "parity between empire and colonies" … or something.]
OC: Okay, but I'm still not understanding how the voluntary exchange of goods and services results in sexism, racism, etc.
Commie: You think it's voluntary?
OC: I believe that's the going definition.
Commie: Yeah, of capitalism. You think it's voluntary if you're poor? You think you have a choice to work?
OC: [Points to local joke-meister Frog across the street]
Commie: Yeah, well, Frog I guess … Hey, you should consider a $10 subscription. It would really piss people like you off.
OC: Hey, I'm just asking some questions. [Decides not to mention the inherent contradiction in selling subscriptions and fighting for socialist revolution.]
Commie: Yeah, well, capitalism is wage slavery. You can quote me on that. [Turns back to table, ending conversation. Time is money, as they say.]
I never got a chance to ask him why, if capitalism is the root of these problems, countries such as Cuba, North Korea and China are such "bastions of freedom and equity." Oh well, maybe next time.