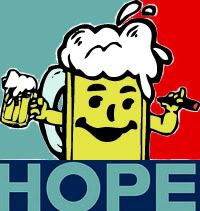 People are already lining up in droves for the Obama rally tonight at Mac Court. Lawn chairs and blankets are set up all along the lawn in front of Esslinger. A guy is selling Obama "hope" t-shirts and probably making a killing.
I went down to the ASUO controller's office and asked if the student government was shelling out any money for the event. It was hard to get a definitive answer, but I was told that no incidental fee money was spent that the controller knew of. We might request the purchase orders to verify all of this.
I also finagled my way onto the press list, so expect a write-up of the rally.
Here's the Register-Guard write-up of the pre-Obama ballyhoo, complete with a lede about ASUO Senator Nate Gulley crying when he found out he was going to miss the rally. Wow, it must be real tough for Gulley, being stuck over in Hawaii on the student body's dime to discuss "environmental racism" and all. My heart goes out to him.
Finally, here's an article on Obama from The Onion.