It turns out that this is becoming a personal folly that the rest of you get to witness.
Previously, I noted the odd advertising choices on the Ol' Dirty's website.
Well, there's more, and it hasn't gotten any less weird. An image for your consumption: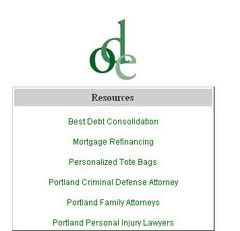 My apologies for the size, I had to do it in paint and photobucket…a frustrating task.
Look, I realize that the Emerald is out to make money, they are a business of sorts. My only issue with the ongoing persecution of their advertisements is the lack of sensible marketing behind it.
Three different ads for lawyers based in Portland? Really? Because that's going to help anyone who gets in trouble in Eugene, especially students.
They got rid of the sex toys advertisement which is somewhat disappointing. The mortgage refininancing is still there which is a nice touch, you know for all those homes that I'm buying.
The only two that make any sense are the Debt consolidation and Tote bags links. Although the tote bags one is pushing it. I looked at the site, they sell Safeway bags with your name on it. Because when I'm shopping for food at the local Safeway what I really need  isn't a generic Safeway brand bag but a bag with my name on it. It really sends the message that I care about…something.
My favorite ad though was the one for the Adult Shop in yesterday's print ODE. Apparently, Sasha Grey and Jesse Jane will be in Salem this weekend, in case you happen to like those particular porn stars.
Not quite as good as the Ron Jeremy visit my freshmen year.
[Ed. Note: The writer was misinformed. Sasha Grey and Jesse Jane will be appearing in Salem on April 4th, not this weekend. Apparently, it will be from 7pm to 10 pm at 2410 Mission St. SE. Salem, Or. We are sorry for the misinformation.}